Current Event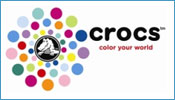 Crocs Expo Sales
22 May 2009 - 24 May 2009
Where: Hall 4A, Singapore Expo
Cost: Various
Opening Hours: 10am to 8pm

Crocs sales at Expo Fashion & Grooming.Visit the Crocs Expo Sale at Singapore Expo Hall 4A from 10am to 8pm.
Standard Chartered Sevens Singapore (Singapore)
When: Apr 2008 (annual)
Where: National Stadium
Cost: Various
Opening Hours: 1pm-10pm
The Standard Chartered Sevens Singapore returns with a spectacular tournament at the National Stadium, featuring rugby powerhouses including New Zealand, Fiji, Australia, England and South Africa.Highly-charged rugby action is in store as the 16 international Sevens teams do battle. Last year more than 26,000 fans witnessed 16 world-class sides battling it out for the championship title, with New Zealand finally trouncing England 26-5 in the final. The 16 teams are divided into four groups, with the four seeded teams each placed in a different group. Day one consists of matches between teams in the same group, with an exciting knockout competition on day two.