Current Event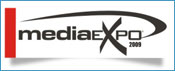 Media Expo 2009 & Asia Shop 09
Event Dates :
06 May 2009 - 08 May 2009
Venue :
Hall 4A,Singapore Expo
Time of Event :
10am to 6pm
The Complete Advertising of Signage Show. This event Organizered by Media Exposition & Events
WOMAD Singapore 10th Anniversary
Event Dates :
24 - 26 August, 2007
Venue :
Fort Canning Park
Do more than watch and listen at this gathering of global musicians. Learn about their music through workshops and taste their culinary creations at the Global Village.
StarWorld Heroes World Tour 2007
Event Dates :
31 August, 2007
Venue :
VivoCity and other venues
You've seen them on TV, bending time, reading minds or beating people to a pulp. Now come face to face with the cast and creator of the hit series.
Baybeats
Event Dates :
2 - 5 August, 2007
Venue :
Singapore Indoor Stadium
This annual indie festival gathers good local and international bands for a rockin' weekend! Mercury Rev opens this year and some promising new bands make their debut.
SINGfest
Event Dates :
8 - 9 August, 2007
Venue :
Fort Canning Park
Catch Sugar Ray, Shaggy, Gym Class Heroes, Pet Shop Boys, The Stranglers and local bands Electrico and The Great Spy Experiment in this live music festival.
Singapore Bay Run
Event Dates :
26 August, 2007
Venue :
Esplanade Drive
Be one of 65,000 people crossing the Benjamin Sheares Bridge and passing historical and cultural landmarks along Marina Bay and Chinatown.
Global Brand Forum
Event Dates :
6 - 7 August, 2007
Venue :
Ritz-Carlton, Millenia Singapore
The world's most influential platform for brands and business. Speakers include Al Gore, John Quelch and Nigel Parsons.
SPORTS: Asian Poker Tour 2006
Event Dates :
12 Nov-17 Nov, 2007
Venue :
Meritus Mandarin Hotel
APT 2006 is an upscale 5-day knockout "No Limit Texas Hold'Em" poker tournament held in a luxury hotel ballroom in Singapore. The first international poker event ever staged in Asia, participants pay an entrance fee of USD$5000 to play for the guaranteed prize pool of USD$1 million.
THEATRE: A Bedfull of Foreigners
Event Dates :
15 Nov-19 Nov, 2007
Venue :
Raffles Hotel, Jubilee Hall
A Bedfull of Foreigners is a comedy which ran for over 600 performances in the West End and its international success has equalled that, with productions worldwide in over a dozen languages. Written by Dave Freeman, one of UK's brightest comedy writers, this hilarious play is set in a French hotel in a small village and the hotel runs a la Fawlty Towers. There are all the ingredients associated with fast-moving farce, mistaken identities, a double-booked bedroom, inefficient staff and hasty cover-ups. Seductions and confrontations run rampant throughout this funny play, which provides excellent entertainment suitable for the entire family.
STAMPS: It's Christmas
Event Dates :
21 Nov 2007-7 Jan 2008
Venue :
Singapore Philatelic Museum, 23-B Coleman Street, SingaporeFind out about the origins of Christmas celebrations, the legend of Santa Claus, and the tradition of sending Christmas cards and Christmas stamps, through a display of stamps from Singapore and around the world. You will have a better understanding and appreciation of the meaning of Christmas.